Employment Opportunities
The Tufts University Art Gallery trains and employs approximately 15 students who constitute the "face" of the Gallery; they welcome visitors, staff the front desk, conduct visitor surveys, help facilitate events and receptions, and learn about museum administration. Gallery Attendants are hired before each semester around August and November. Job postings will be advertised on the gallery's Facebook page. For more information about positions in at the Art Galleries in both Medford and SMFA at Tufts Boston locations please contact Kaitlyn Clark. 
The Art Galleries offer up to three one-year Fellowship opportunity to current graduate students in the History of Art, Museum Studies or Master of Fine Arts or related programs. Fellows develop research and writing for upcoming exhibitions, catalogue and update the Permanent Collection database, and work with visiting artists. Fellowships begin each September and conclude in August of the following year. Please send inquiries and applications to Ariel Baez.
Research, Internships,
& Student Projects
We strive to be a resource to students on campus and to provide practical hands-on experience whenever possible. Opportunities for students to engage in paper or thesis research, capstone projects, teaching, curation, and other academic endeavors are available and evaluated on a case by case basis. Contact Liz Canter,  Manager of Academic Programs to discuss your idea. The Gallery periodically hosts a Tufts Museum Studies Program Intern during the summer months to assist the Collection Registrar with ongoing activities as well as special projects, grant-funded projects, inventorying the University's permanent art collection, and installing works of art on campus through the Circulating Loan Program. To inquire about opportunities, please contact Senior Collection Registrar, Laura McDonald. 
Student Programming Committee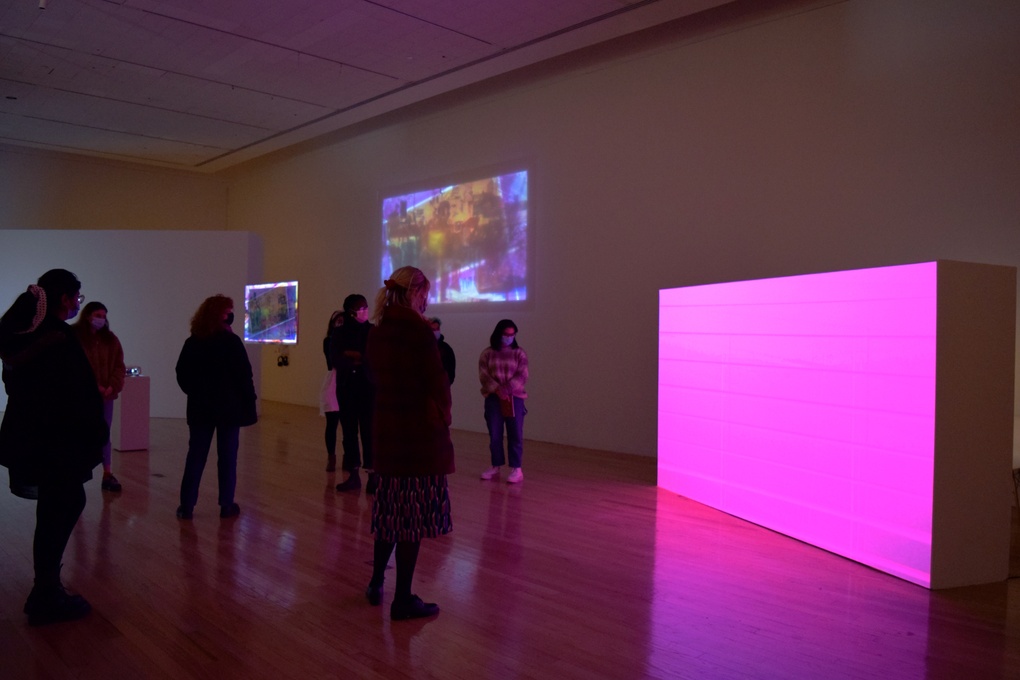 The Tufts University Art Galleries (TUAG) Student Programming Committee (SPC) incorporates student voices into TUAG affairs to make TUAG resources more available and relevant to the student body. The SPC consists of 6 student members working under the guidance of the manager of academic programs and TUAG graduate fellow. SPC members will be expected to attend weekly meetings on Fridays from 1-2pm, attend and promote TUAG programs, and complete ~4 hours/month of work outside of the weekly meetings for a total of approximately 8 hours/month during the academic year. SPC members will be compensated for 22 hours per semester.
Open to all class years of BA/BS, BFA, and dual-degree students. No art history or museum experience necessary. All majors are encouraged to apply —we are seeking diverse perspectives and experiences.
The Student Programming Committee will learn about the Galleries mission, vision, and programming, develop relationships with TUAG staff, and engage in professional growth opportunities, and insert student voices into general gallery affairs. The SPC will plan and offer Friday programming connected with current exhibitions that are aimed at increasing student participation and engagement. The SPC will partner with other Tufts' student organizations and other university museum student organizations to further deepen and connect their work to the larger student body. Some members of the SPC will also participate in TUAG working groups (i.e. Accessibility, Land Acknowledgment), TUAG-related committees (i.e. Gifts of Art and Public Art Committees), and/or be asked to provide feedback on curatorial or educational materials. The SPC may take field trips or attend programs to expand their knowledge of the field and participate in broader conversations about the role of the academic museum right now.
To be part of the SPC, you must be available for meetings on Fridays between 1-2pm.
If you are interested in applying for Spring 2024, please send a resume OR a CV OR a short bio so we can learn a bit more about you AND brief written responses to the following questions to elizabeth.canter@tufts.edu by January 5, 2024:
What do you think the role of an academic art museum is today?
Describe a time you worked collaboratively with a group of people.
How do you think TUAG could be a more relevant and trusted resource for a larger population of the Tufts community?