The Poetry of Reason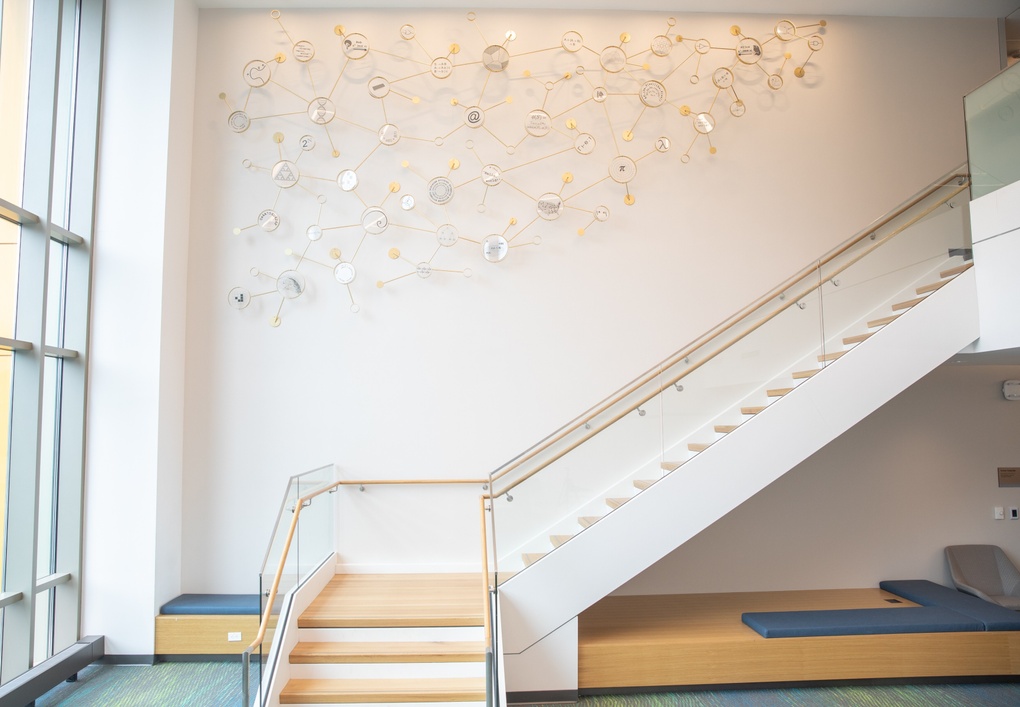 About the Exhibition
Date
Aug 15, 2022 – Aug 20, 2027
Location
Joyce Cummings Center — 177 College Ave
Artists
Yu-Wen Wu
The Poetry of Reason, by artist Yu-Wen Wu, is a weblike metal and plexiglass wall sculpture that explores the associations and linkages of fundamental pieces of knowledge from across disciplines, and how these interconnections affect the whole. As the whimsical title implies, The Poetry of Reason underlines the abstractions, or poetics, that lie behind theories that guide our logic and reason. Wu worked with the Computer Science faculty members and students to select a series of forty graphical signs, or notations, that speak to originality, intersections, collaborations, and creativity. Driven by her long-standing interest in rendering data visible, the artist encourages viewers to look closely and probe the meaning of each notation. What do these signs have to do with one another? How do they speak to systems and, perhaps most importantly, to contemporary modes of communication?
Aligned with these inquiries into data and systems, Wu installed The Poetry of Reason near a floor-to-ceiling window that provides abundant natural light, an element that further embodies the system of visual symbols and material connections. Here, defined shadows lend the installation a cyclical, ever-changing quality. As the sunlight shifts, the shape, length, and depth of shadows, as well as their formal correspondence to elements of the work, change the overall appearance of the wall sculpture. Through this dynamic dialogue, Wu prompts the audience to embrace the playfulness of logic, opening a space to consider the notations as creative elements rather than rigid forms.
The Poetry of Reason is part of the Joyce Cummings Center (JCC) Art Program with artworks on floors 5+6, 3+4, and the entry lobby screens. Funding for the JCC Arts Program was generously provided by Dr. Joan M. (J '69) and Alan Henricks. The commissions were developed by the Tufts University Art Galleries with the JCC Art Working Group and Tufts Public Art Committee. Special thanks to Frank Crisione of American Handcraft for the steel fabrication.
Notation Dictionary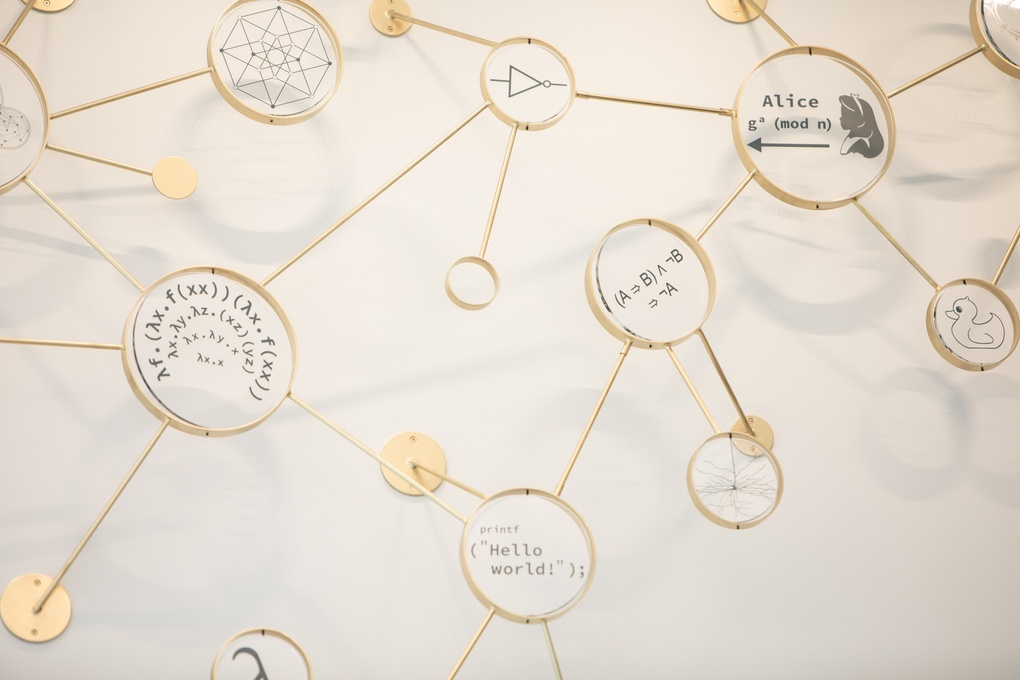 Learn more about the forty graphic signs or notations in Yu-Wen Wu's piece, The Poetry of Reason.
Click here