Wakpa: Mural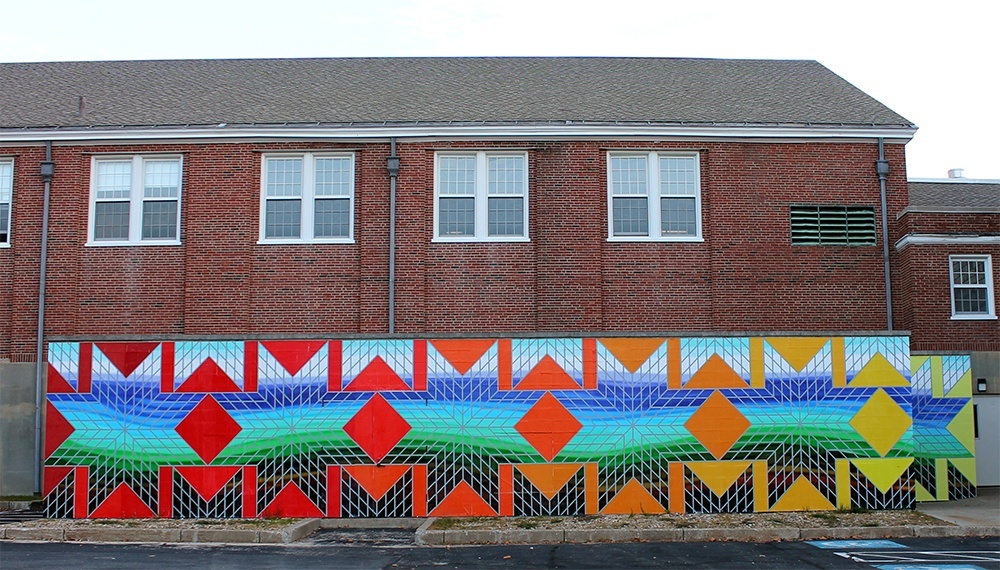 About the Exhibition
Date
Aug 1, 2021 – Aug 1, 2022
Location
Medford
Artists
Erin Genia
Artist Erin Genia's commissioned mural installation, Wakpa, is drawn from the Dakota word for river. Located in the Jackson Gym parking lot next to Tufts University Art Galleries entrance, the mural imagery depicts the Mystic River, the watershed that Tufts University Art Gallery resides within. Using the Anpa O Wicahnpi – the Morningstar – as a window from which to view the river, the mural honors an Indigenous perspective and allows viewers to experience the work at the scale of the body, to awaken respect and reverence in our intrinsic relationship to land and water. The layering of colors represents the elements of place: earth, clay, water, plants, animals, and air/sky, connecting all those who depend on the river for survival.
This mural project is tied Erin Genia's Fall 2021 ceramics class at SMFA at Tufts, "Shaping the Body Politic," where students will engage with Tufts University archives to locate and map traditional clay beds along the Mystic, and learn how the river has been altered by settler colonialism. Students will be creating additional elements using clay as a pigment, which will be added to the design during the Fall 2021 semester.
This mural installation is in conjunction with the TUAG fall exhibition in the Slater Concourse, Unsettling the Archive: Exploring Tufts' Relationships with Land, which uses materials from the Tufts University Permanent Art Collection and Tufts Digital Collections & Archives to explore the university's relationship to the land it occupies, with a focus on making visible and unsettling the prevailing narratives of the campus ecosystem.
Erin Genia, Sisseton-Wahpeton Oyate/Odawa, (she/ her) is a multidisciplinary artist, educator and community organizer specializing in Native American and Indigenous arts and culture. Genia has an M.S. in Art, Culture and Technology from MIT, an M.P.A. in Tribal Governance from the Evergreen State College and studied at Institute of American Indian Arts. Her public art commissions include the Minnesota Historical Society, the City of Saint Paul, and the City of Seattle. Genia lives and works in the greater Boston region, was a 2020 Artist-In-Residence for the City of Boston, and works with the New England Foundation for the Arts Public Art team on the project, "Centering Justice: Indigenous Artists' Perspectives on Public Art."