Staying with the Trouble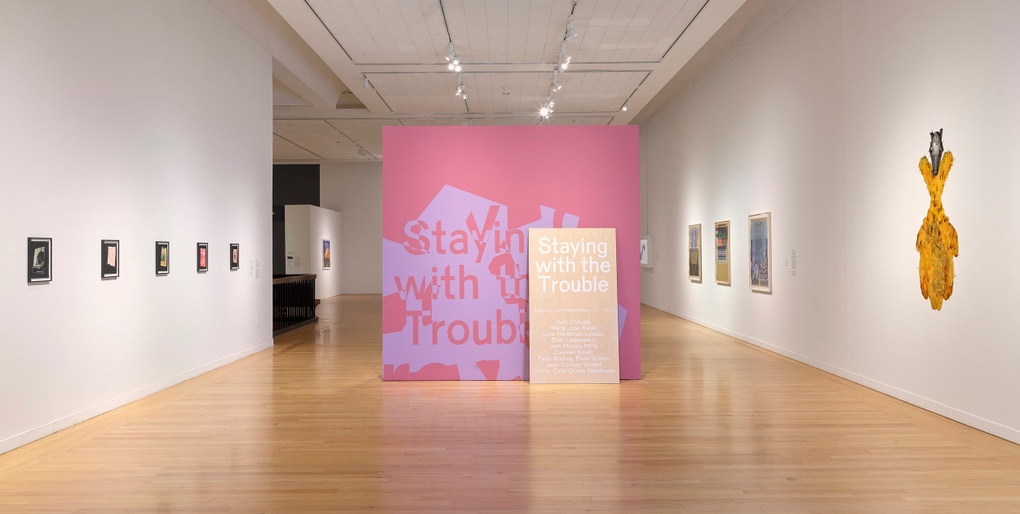 About the Exhibition
Date
Aug 30 – Dec 5, 2021
Location
Boston, Medford
Artists
Judy Chicago, Young Joon Kwak, MPA, Lynn Hershman Leeson, Ellen Lesperance, Joiri Minaya, Cauleen Smith, Faith Wilding, Paula Wilson, and Carmen Winant with Carol Osmer Newhouse
Staying with the Trouble is a group exhibition that proposes strategies and coping mechanisms for navigating the current political and socio economic climate, which seems to be simultaneously slipping backward into the archaic and forward into the apocalyptic.
Each of the artists in Staying with the Trouble engages in a practice that is weblike in its references and positioned to challenge histories, past and projected, to engage with the immediate. Often drawing on world-building strategies and from the landscapes where they dwell, these artists embrace concepts of science fiction, intersectionality, and utopia through humor, joy, performance, mythology, and re-presentations of femininity and sexuality.
Nonetheless, the works in this exhibition resist escapism, taking the hard road to "stay with the trouble" of the present while envisioning a new paradigm for negotiating it. These works ask viewers collaboratively to begin to lay the groundwork for imagining the unimaginable. This last year has witnessed continued violence against Black bodies, silencing of Indigenous voices, and attempts at erasure—whether at the ballot box or along the Dakota Access Pipeline. Yet this year has also seen a wider recognition of such systemic violence and a new commitment to the project of decolonization in efforts to both dismantle and shift societal narratives, newly privileging identities and voices long suppressed or misrepresented by the mainstream.
The exhibition title is a direct reference to ecofeminist Donna Haraway's 2016 book Staying with the Trouble: Making Kin in the Chthulucene, in which she calls for new ways of nonlinear thinking in an age when old methodologies are clearly failing. Echoing the critical ethos found within indigenous knowledge, philosophical practices, and modern science, Haraway advises collaborative approaches to learning to live (and die) together on a damaged Earth. Robin Wall Kimmerer, botanist, author of Braiding Sweetgrass, and citizen of the Potawatomi Nation, similarly highlights out interconnected paths to survival. Kimmerer writes of the extraordinary behavior of trees and remarks, "What happens to one of us happens to us all. We can starve together or feast together. All flourishing is mutual." Both Kimmerer and Haraway ask all of us to see beyond the trees to the forest. The act of staying with the trouble is a call for new stories through acts of joy, empathy, coauthorship, collaboration, and invention; and to redefine family and economies in the here and now rather than to mourn the future preemptively.