A Decolonial Atlas: Strategies in Contemporary Art of the Americas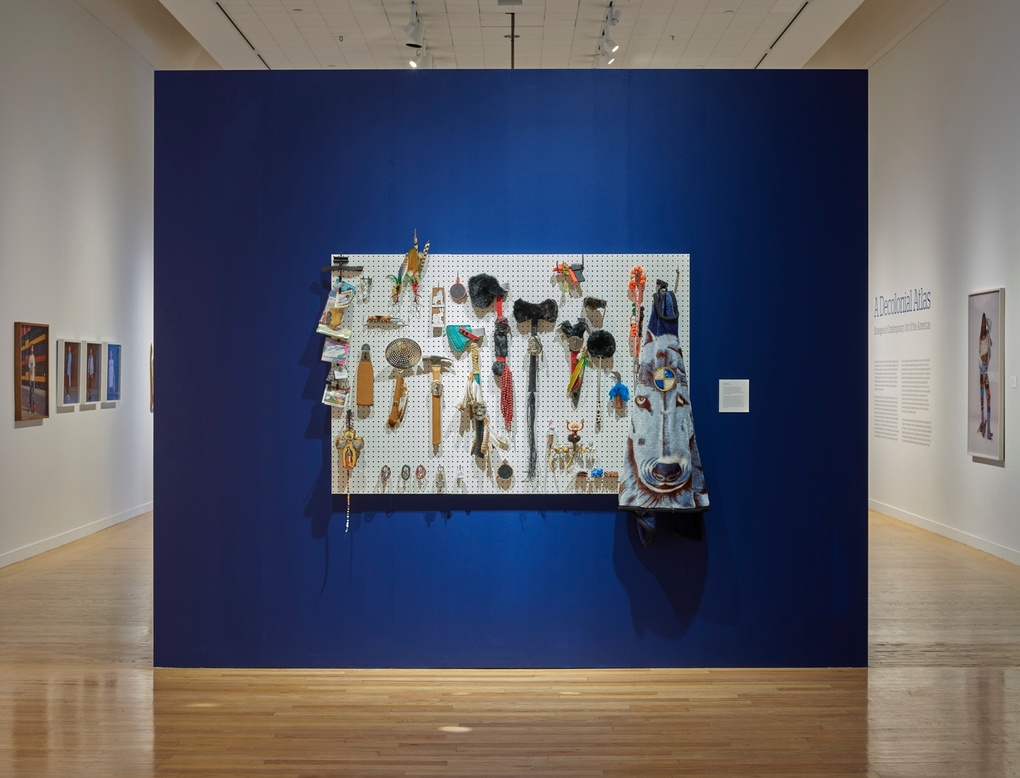 About the Exhibition
Date
Jan 16 – Apr 15, 2018
Location
Medford
Drawing from the hemispheric context of the Americas, and broad questions of civilization and culture, A Decolonial Atlas: Strategies in Contemporary Art of the Americas presents recent works by artists from the United States and Latin America who grapple with continued questions of colonialism and postcolonialism.
The exhibition highlights the medium of video as a critical tool for expanded narratives and immersive imagery, in addition to painting, photography, sculpture and works on paper.
Divisions between the "material" and "spiritual" development of culture, a distinction advocated by Alexander von Humboldt after his expedition in North and South America at the beginning of the nineteenth-century, untether inherited and ancestral knowledge formations from empirical observation. Such ethnographic accounts of the Americas by European colonizers are representative of the contested histories that have unfolded over past centuries, and which have replicated in the modern era under new geopolitical forces. In the twenty-first century, contemporary artists actively contend with this legacy to broach new discourses of decolonization. Foregrounding questions of place and positionality, these artists seek to unsettle established narratives through counter-hegemonic perspectives.
A Decolonial Atlas: Strategies in Contemporary Art of the Americas is organized by the Vincent Price Art Museum. Artists in the exhibition include Iván Argote, Isabel Avila, Raul Baltazar, Tania Candiani, Carolina Caycedo, E.D.E.L.O (Caleb Duarte and Mia Eve Rollow), Ricardo Estrada, Jeffrey Gibson, Martine Gutierrez, Pablo Helguera, Laura Huertas Millán, Carlos Motta, Paulo Nazareth, Camilo Ontiveros, Eamon Ore-Giron, Postcommodity, Naufus Ramírez-Figueroa, Marton Robinson, and Javier Tapia.