Curator Tour + Closing Performance: NIC Kay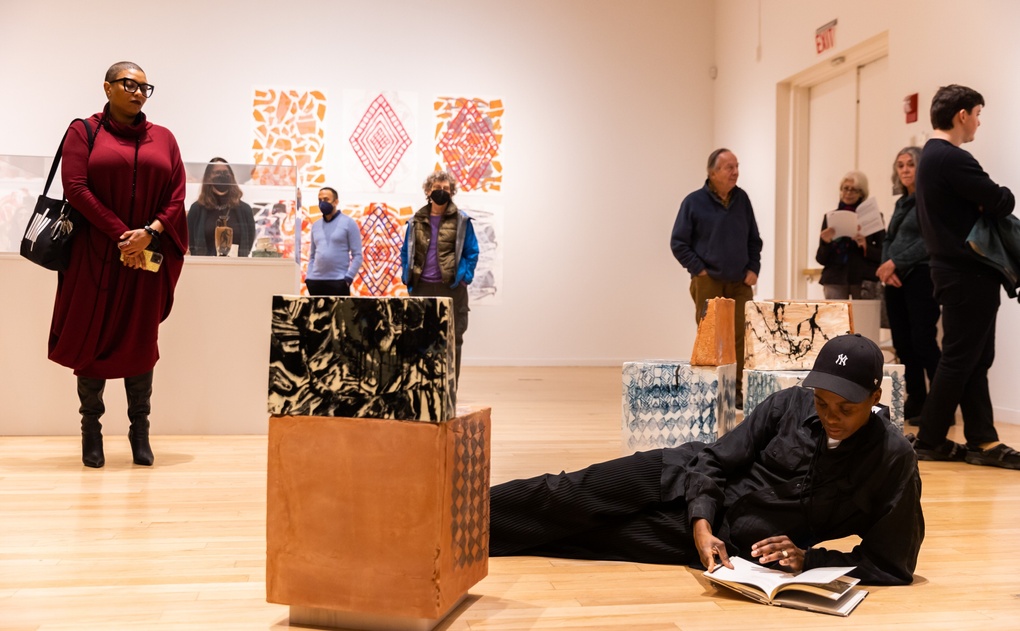 About the Event
Date
Apr 23, 12 – 2pm
Location
Medford
Join us for a closing curator tour of re:imagining collections featuring a final performance of Before and After (Object Lessons) by artist NIC Kay.
Before and After (Object Lessons) is a performative installation in which three "figures/objects/sculptures/antiquities" from ancient civilizations make an appearance in a contemporary gallery to have a conversation about identity, time, ownership, and desire. Rooted in the artist's interest in the history of the human form on display, the installation and performance are centered on sculptural costumes that question the legacy and role of historical objects and collections within the institution and beyond, merging historical forms and contemporary bodies.
NIC Kay is an artist, performer, and choreographer born and based in New York (Bronx, 1989) who explores relationality and yearning through movement. NIC employs choreography to excavate relationships between spaces, bodies, and objects to shift meaning and change perceptions of place. Informed by the architecture and inner workings of performative spaces—theaters, galleries, nightclubs, sidewalks, and the internet—the artist operates site-specifically to create moments of glitch, interruption, or experimental theater, performance for the internet, publications, sonic interventions, installations, and sculpture.
A recipient of the Foundation for Contemporary Art Grants to Artists Award (2020), NIC has performed their work in national and international scenarios, including Akademie der Künste in Berlin; Buddies in Bad Times Theatre in Toronto; Encuentro 19 in Mexico City; Institute of Contemporary Arts – ICA London; Portland Institute of Contemporary Art, and University of Arts in Zurich. Most recently, NIC was an artist in residence at the New Museum in New York, where they presented an iteration of their project #blackpeopledancingontheinternet (2021), which looked into the "creation, documentation, and circulation of African diasporic dance/movement practices, and black and queer internet cultures." In 2020, the artist published their first book, Cotton Dreams with Candor Arts.