The Metabolic Museum: New Pathways for Collecting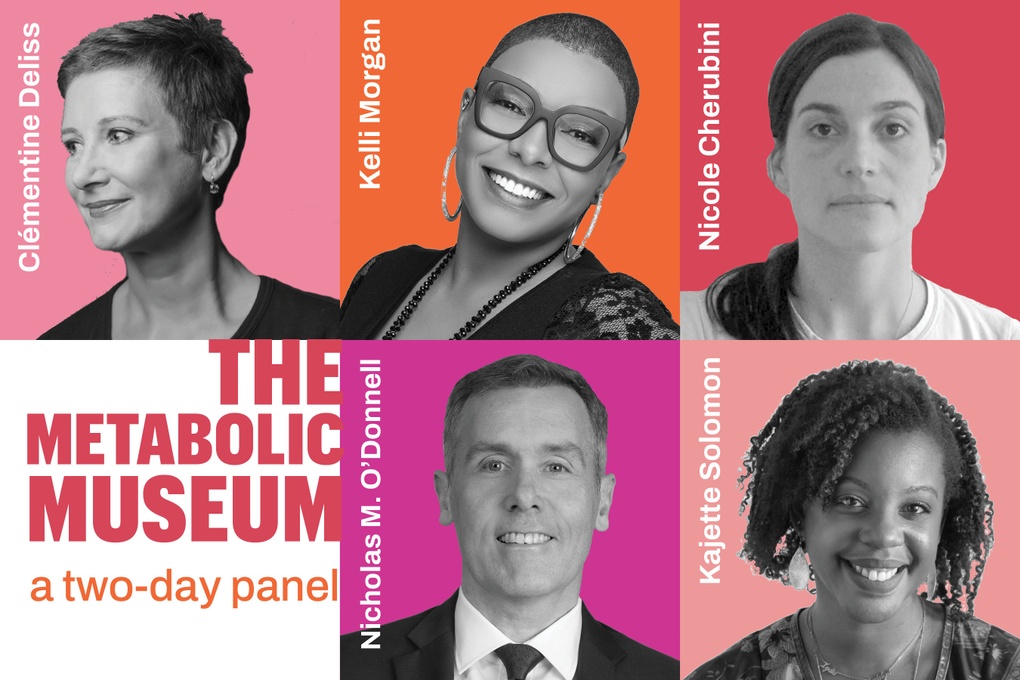 About the Event
Date
Mar 30–31
Location
IN-PERSON: Alumnae Lounge / Aidekman Arts Center / 40 Talbot Ave / Medford, MA
Keynote
Thursday, March 30, 2023, 6–8 pm
Clémentine Deliss, Associate Curator, KW Institute for Contemporary Art, Berlin
Panel
Friday, March 31, 9–12 pm
Panelists: Nicole Cherubini, artist / Kelli Morgan, Director of Curatorial Studies at Tufts University / Nicholas M. O'Donnell, Partner, Sullivan & Worcester LLP / Kajette Solomon, Social Equity and Inclusion (SEI) Program Specialist at the RISD Museum / moderated by Dina Deitsch, TUAG director and co-curator of re:imagining collections
As public calls for responsibility and transparency in museums have increased—specifically around historic collections—audiences are demanding greater acknowledgment of the colonial ideologies at the foundation of some institutions, questioning provenance and modes of acquisition, and urging for the return of cultural artifacts to their home nations. How have institutions, including Tufts University, responded? Join us for a two-day event that explores new pathways of understanding, displaying, researching, and returning historic collections as we consider the ethics and moral implications of housing and collecting works, especially cultural objects of deep ritual significance or those considered colonial plunder.
This two-day panel, presented as an extension of TUAG's exhibition re:imagining collections, borrows its title from our keynote speaker Clémentine Deliss's 2020 publication, The Metabolic Museum, in which the former director of Weltkulturen Museum (Frankfurt, Germany) argues for the living and changing nature of collections and new, radical engagements and interventions by artists into ethnographic collections. In this spirit, re:imagining collections follows Deliss's model by inviting five contemporary artists to rethink and reengage Tufts University's under-studied antiquities collection from a decisively oblique angle, asking of these works new questions.
The Metabolic Museum: New Pathways for Collecting is supported by the Tufts AS&E Diversity Fund, the Toupin-Bolwell Fund, and Tufts Curatorial Studies program.
About the panelists:
Nicole Cherubini is a mixed-media ceramicist and sculptor with an ongoing interest in historic vessels and their pathways of ownership over millennia, and an exhibiting artist in re:imagining collections. She has presented solo exhibitions at several institutions, including the Institute of Contemporary Art, Philadelphia; Jersey City Museum, New Jersey; Nassau County Museum of Art, Roslyn Harbor, New York; Pérez Art Museum Miami (PAMM); Santa Monica Museum of Art, Los Angeles; and The University Art Museum, University at Albany, New York. Her works have been included in group exhibitions at the Boston University Art Gallery; Boston Center for the Arts; Cranbrook Art Museum, Bloomfield Hills, Michigan; West Norway Museum of Decorative Art (Permanenten), Bergen; RISD Museum, Providence; and in New York at MoMA PS1 and SculptureCenter, Long Island City.
Clémentine Deliss is Global Humanities Professor of History of Art at the University of Cambridge, and Associate Curator at KW Institute for Contemporary Art in Berlin, where she directs the Metabolic Museum-University and is preparing the exhibition, "Skin in the Game" (September 2023). Her practice crosses the borders of contemporary art, critical anthropology, curatorial experimentation, and publishing. Between 2010–2015, she directed the Weltkulturen Museum in Frankfurt instituting a new lab for post-ethnographic research and the remediation of contentious collections. She is a Fellow of the Institute of Advanced Study in Berlin and has taught art theory and curatorial practice at the Ecole nationale supérieur Paris-Cergy, Karlsruhe University of Arts and Design, and Hamburg University of the Arts. She is Faculty at Large of SVA Curatorial Practice in New York, and Guest Mentor of the Berlin Program for Artists. Her book "The Metabolic Museum" was published by Hatje Cantz in co-production with KW (2020), in Russian (Garage Museum, 2021) and is coming out in Spanish with Caniche, Madrid in April 2023.
Kelli Morgan is a Professor of the Practice and the inaugural Director of Curatorial Studies at Tufts University. A curator, educator, and social justice activist who specializes in American art and visual culture, her scholarly commitment to the investigation of anti-blackness within those fields has demonstrated how traditional art history and museum practice work specifically to uphold white supremacy. Dr. Morgan has held curatorial positions at the Indianapolis Museum of Art at Newfields, the Birmingham Museum of Art, and the Pennsylvania Academy of the Fine Arts.
Kajette Solomon is RISD Museum's first Social Equity and Inclusion Program Specialist. Her role endeavors to shape, implement, and manage the Museum's efforts to build an equitable, diverse and inclusive institution for all. Kajette is an American Association of Museum Volunteers board member and a graduate of the inaugural class of the Rhode Island Foundation's Equity Leadership Initiative. She holds a BA in Art History from Arcadia University and MA in Modern and Contemporary Art History, Theory, and Criticism from Purchase College.
Nicholas M. O'Donnell is a Partner in the Litigation Department of Sullivan & Worcester in Boston. He has served as lead counsel on a variety of lawsuits concerning restitution and fine art sales and has advised museums, dealers, auction houses, and collectors worldwide about restitution, copyright, and de-accessioning issues. He is former Chair of the Arts, Cultural Institutions and Heritage Law Committee of the International Bar Association and a regular member of the New York City Bar Art Law Committee. Nick is the author of numerous articles and papers on the subject of art disputes and regulation, as well as A Tragic Fate—Law and Ethics in the Battle Over Nazi Looted Art (2017), the first comprehensive overview of disputes in the U.S. over Nazi-looted art, including his clients' claims for the Guelph Treasure or Welfenschatz, which Nick argued before the Supreme Court in 2020.