Latinx Solidarities in Boston: Panel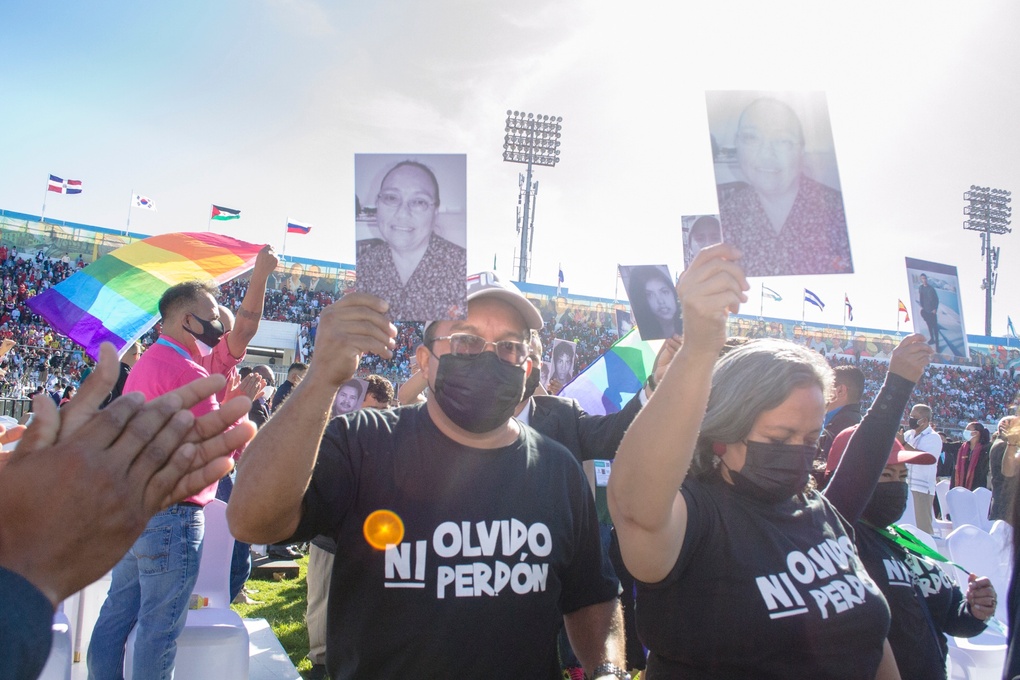 About the Event
Date
Apr 3, 2022, 2 – 4pm
Location
SMFA at Tufts / Boston
UPDATE 4/4/2022: Due to unforeseen circumstances, we are cancelling the April 15 panel discussion. Please join us at our April 23 event or during regular open hours.
This panel discussion brings together artists, activists, and scholars on the past, present and future of solidarity, activism, and community through Latinx networks in Greater Boston. Join us to learn more about what is happening at Tufts and within the local community; movement-building in Latin America and other global struggles; perspectives on organizing; and how to get involved.
This program is in conjunction with Art For the Future: Central American Solidarities on view at Tufts University Art Galleries. Presented in English with Spanish interpretation. Featuring Geovani Alberto Cruz Alfaro (BFA'23), artist & organizer Gabriela Cartagena, scholar Aviva Chomsky, Jorge Gomez-Gonzalez (MFA '22), and scholar Steve Striffler.
Geovani Alberto Cruz Alfaro (BFA '23) is junior at the SMFA at Tufts from El Salvador who grew up in Los Angeles. Geovani curated Temporarily Living: Creating While Questioning, an exhibition documenting the Central American experience for artists at Tufts University in conjunction with Art for the Future and has been a student fellow on the exhibition since the summer of 2021. He is very involved with the SMFA community as an SMFA Student Affairs assistant, Student Government Association secretary, Tufts University Art Gallery student board member, Artist of Color Union member and United for Immigrant Justice member.
Gabriela Cartagena is a community organizer, artist, and educator born and raised in Boston and living in East Boston. She's into experimental photography and cinema and has taught workshops in the Caribbean and Latin America. She is the Digital Communications Organizer for City Life/Vida Urbana, a grassroots community organization committed to fighting for racial, social and economic justice and gender equality by building working class power.
Aviva Chomsky is a prolific American historian, author, and activist. She currently teaches at Salem State University, where she is also the coordinator of the Latin American studies program. She was previously a research associate at Harvard University, where she specialized in Caribbean and Latin American history. Her most recent book is Central America's Forgotten History: Revolution, Violence, and the Roots of Migration.
Jorge Gomez-Gonzalez (MFA '22) is a gay Mexican artist who was born and raised in Oakland, California. Jorge got their B.A. in Art at the University of California Santa Cruz. They are currently getting their MFA at the School of the Museum of Fine Arts at Tufts University and are a Graduate Assistant with the Tufts Latinx Center. Jorge is exploring themes of their intersectional identities through makeup and recently they started to explore ways they can use pinto beans to reclaim the term "Frijolero"/"Beaner."
Steve Striffler writes and teaches about labor, migration, and the Left in relation to Latin America and the United States. He recently published Solidarity: Latin America and the U.S. Left in the Era of Human Rights, which explores the history of U.S.-Latin American solidarity from the Haitian Revolution to the 2000s.
SOLIDARIDADES LATINX EN BOSTON: Panel  Viernes 15 de abril, 2:00 pm  Presencial: SMFA en Tufts / Boston
Este panel de discusión propone a artistas, activistas y académicos temas sobre el pasado, el presente y el futuro de la solidaridad, el activismo y la comunidad a través de las redes de Latinxs en Boston y sus alrededores. Únete a nosotros para aprender más sobre lo que está sucediendo en Tufts y dentro de la comunidad local; la construcción de movimientos en América Latina y otras luchas globales; las perspectivas sobre la organización futura; y cómo participar.
Presentado en inglés con interpretación al español. Con Geovani Alberto Cruz Alfaro, Gabriela Cartagena, Aviva Chomsky, Jorge Gomez-Gonzalez, y Steve Striffler. Presentado en conjunto con Tufts Latinx Center.
Geovani Alberto Cruz Alfaro (BFA '23) es un estudiante de la SMFA en Tufts de El Salvador que creció en Los Ángeles. Geovani fue curador de Temporarily Living: Creating While Questioning (Vivir temporalmente: Creando mientras se cuestiona), una exposición que documenta la experiencia centroamericana de los artistas en la Universidad de Tufts en conjunto con Art for the Future y ha sido un estudiante becario en la exposición desde 2021. Está muy involucrado con la comunidad de la SMFA: como asistente en SMFA Student Affairs (Asuntos Estudiantiles de la SMFA), secretario de la Student Government Association (Asociación de gobierno estudiantil), miembro de la junta estudiantil de la Galería de Arte de Tufts University, miembro del Sindicato de Artistas de Color y miembro de United for Immigrant Justice.
Gabriela Cartagena es una activista comunitaria, artista y educadora nacida y criada en Boston, que vive en East Boston. Se dedica a la fotografía y el cine experimental, y ha impartido talleres en el Caribe y América Latina. Es la organizadora de comunicaciones digitales de City Life/Vida Urbana, una organización comunitaria de base comprometida con la lucha por la justicia racial, social y económica y la igualdad de género mediante la construcción del poder de la clase trabajadora.
Aviva Chomsky es una prolífica autora, historiadora y activista estadounidense. Actualmente imparte clases en Salem State University, donde también es coordinadora del programa de estudios latinoamericanos. Antes fue investigadora asociada en la Universidad de Harvard, donde se especializó en historia del Caribe y América Latina. Su libro más reciente es Central America's Forgotten History: Revolution, Violence, and the Roots of Migration (La historia olvidada de América Central: Revolución, violencia y las raíces de la migración).
Jorge Gómez-González (MFA '22) es un artista gay mexicano nacido y criado en Oakland, California. Obtuvo su licenciatura en Arte en California University, Santa Cruz. Actualmente está cursando un MFA en School of the Museum of Fine Arts de Tufts University y es asistente de graduados en el Centro Latinx de Tufts. Jorge está explorando temas de sus identidades interseccionales a través del maquillaje y recientemente empezó a explorar formas de usar "frijoles pinto" para reclamar el término "Frijolero"/"Beaner".
Steve Striffler escribe y enseña sobre trabajo, migración y la izquierda política en relación con América Latina y Estados Unidos. Recientemente ha publicado Solidarity: Latin America and the U.S. Left in the Era of Human Rights (Solidaridad: América Latina y la izquierda en Estados Unidos en la era de los Derechos Humanos) que explora la historia de la solidaridad entre Estados Unidos y América Latina desde la Revolución de Haití hasta la década de 2000.