A Touch Could Be The Spark, How Will I Recognize You?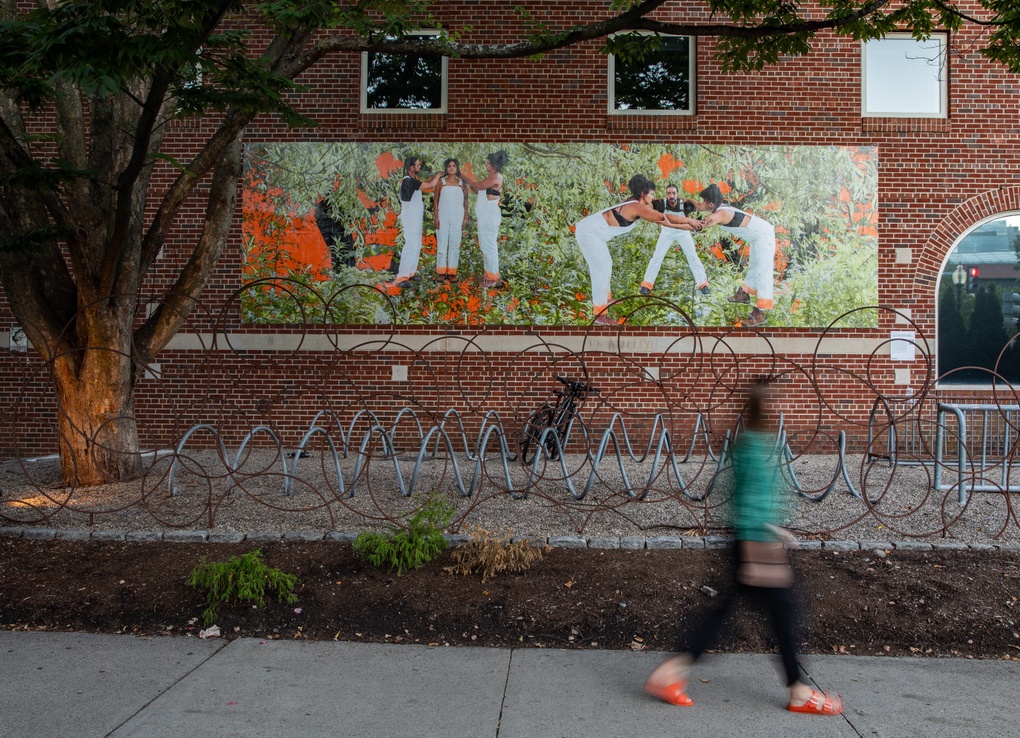 About the Exhibition
Date
Aug 1, 2022 – Aug 30, 2023
Location
Boston, Medford
Sofía Córdova is a conceptual interdisciplinary artist—born in Puerto Rico and based in Oakland, California—whose work considers the merging of science fiction and reality alongside climate change, migration, and political revolution.
Located across our Boston and Medford campuses, these murals are related to the installation GUILLOTINÆWannaCry Act Green: Sauvage, Savage, Salvaje, a body of work that suggests a near-future where making revolution is contextualized within global uprisings, the destabilization of governance, and climate-crisis events that scramble technological systems worldwide. Pictured here is the artist, alongside dancer-collaborators Rashaun Mitchell and Meg Jala, enacting banal gestures of touch staged in a pixelated wilderness environment, sharing an intimate or fleeting relationship of recognition, all at a mediated distance from the viewer. The murals are an element in the larger project, Sauvage, Savage, Salvaje, which builds upon the histories of Cimarrónes and Indigenous peoples organizing in fugitivity across the Caribbean and the Americas, as well as ambivalence towards collectivity and political agency in the present tense.
These public artworks are part of Sofía Córdova's solo exhibition Backed Up Into Dawn, on view at Tufts University Art Galleries at SMFA at Tufts, August 30–October 23, 2022.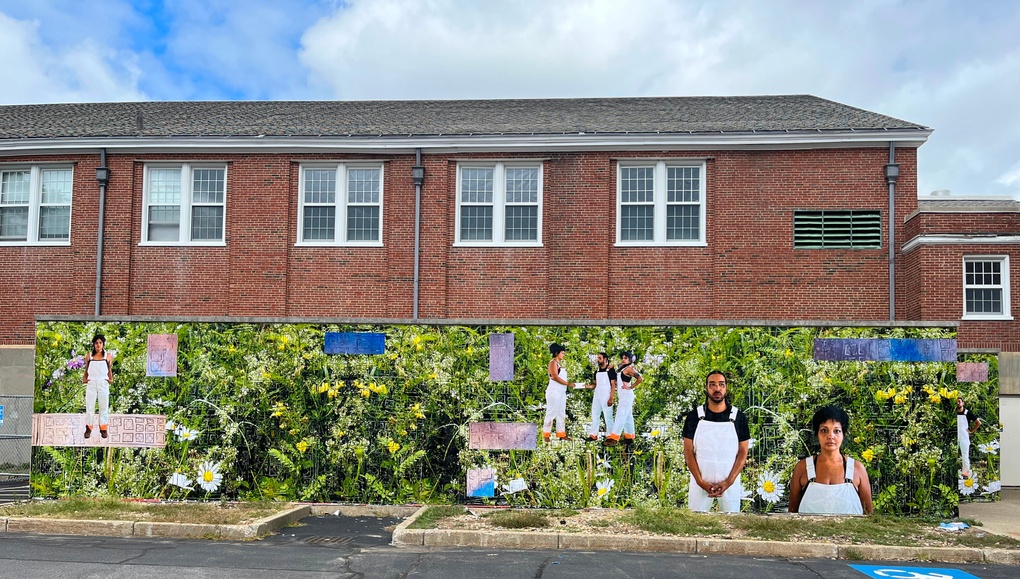 A Touch Could Be The Spark, How Will I Recognize You? (Braid & Huddle) (pictured above) is located on the exterior Fenway Way side of the SMFA at Tufts building in Boston and A Touch Could Be The Spark, How Will I Recognize You? (Stand & Letter) (pictured left) is situated near the Jackson Dance Lab and studios at the Aidekman Arts Center, home to the Tufts Dance Program. The work speaks to people coming together in movement and as movement-makers.