Hermits' Strand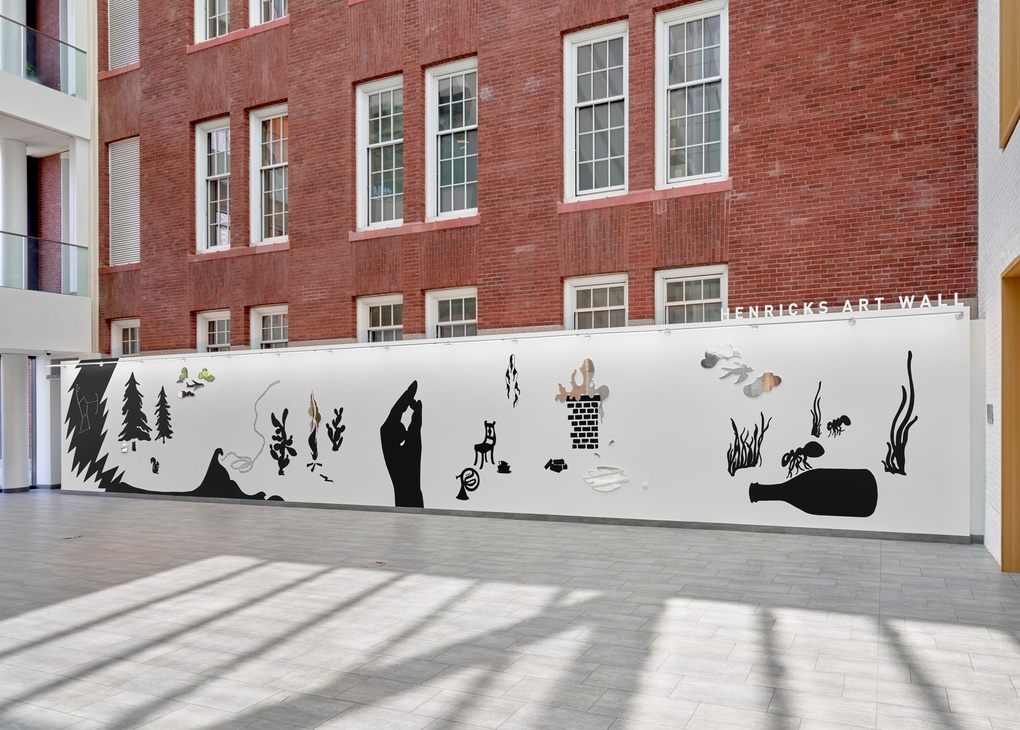 About the Exhibition
Date
Jul 20, 2019 – Jul 20, 2024
Location
Henricks Art Wall
Tufts University Art Galleries are pleased to present a new mural by Los Angeles–based artist Kate Costello BFA'98 for the Henricks Art Wall, a rotating installation program here at the Tufts' Science and Engineering Complex (SEC).
Hermits' Strand is a site-specific wall drawing that depicts pieces of landscape and sets the scene for the character of the Hermit. In her paintings, drawings, sculptures, prints, and even video, Costello uses archetypal figures—such as the Hermit, the Collector, the Loner—as tools to examine the vernacular flow of culture through recurring narrative tropes and devices. For Costello, the Hermit illustrates a position of self-removal, a space for inquiry and reflection—akin to the laboratories and classrooms of academia—from which to look out onto the world anew.
In Costello's characteristic style, Hermits' Strand mingles the schematics of comics with the structures of illustration and printmaking. Over the course of the wall, shifts in scale and rhythm, and in material from paint to polished aluminum, guide the viewer between an imagined landscape and the real world. Unexpected narrative links emerge from the shadowy silhouettes of known objects—a tree, a bottle, a giant ant and hand—to present a deceptively allusive tableau. Through its graphic style, Hermits' Strand explores our desires to find stories, revealing the ways this urge can be met and frustrated through legible and abstract visual languages.
Hermits' Strand is organized by Dina Deitsch, Director and Chief Curator, Tufts University Art Galleries.
About the Artist Kate Costello lives and works in Los Angeles, California. Costello holds a BA from Tufts University, a BFA from the School of the Museum of Fine Arts, Boston, and an MFA from the University of Southern California. Costello's work is in the permanent collections of the Los Angeles County Museum of Art and the Hammer Museum of Art.