SMFA Billboard: Kameelah Janan Rasheed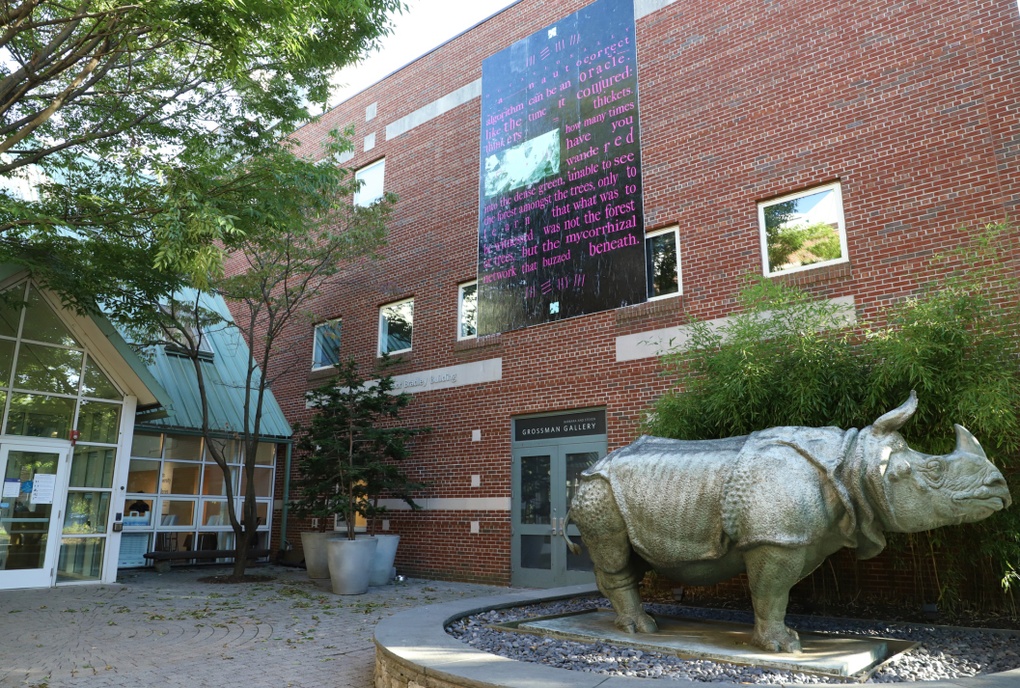 About the Exhibition
Date
Aug 20, 2020 – Aug 22, 2021
Location
SMFA at Tufts Exterior Billboard
Kameelah Janan Rasheed is an interdisciplinary artist, writer, and self-described learner based in Brooklyn, New York. Her text-based installations, publications, library interventions, and archival investigations address the expansiveness of Black study, experimental poetics, and the construction of language and learning. Rasheed's when j reads my work, he only ever reads aloud. never silently. often, his mouth will utter the words that are not on the page: revision by way of misreading. this is how we arrived at this piece, newly commissioned for the SMFA at Tufts campus, speaks to the artist's interest in Oulipo, a French group of writers and mathematicians who came together in the early 1960s. They rejected the idea of chance and the subconscious as sources of creativity, instead using systematic and constrained writing techniques to generate their texts. Rasheed links Oulipo to the now-ubiquitous autocorrect function in digital composition platforms, seeing it as a new kind of writing inspiration. Abandoning certainty and creating a way to get lost in text, both as conceptual process and in the literal space of the page, Rasheed moves away from authorship and codified systems of knowledge and toward thinking as a complex ecosystem with no fixed destination. The SMFA work's title also suggests the way language and text evolve through intimate conversations and utterance, suggesting a further (mis)translation from autocorrect into embodied relation.
Rasheed's work has been exhibited at the EXPO Chicago (2019), the Venice Biennale (2017), ICA Philadelphia, the Studio Museum in Harlem, Brooklyn Public Library, the Queens Museum, the New Museum, and The Kitchen in New York. She is the author of two artist books: No New Theories (Printed Matter, 2019) and An Alphabetical Accumulation of Approximate Observations (Endless Editions, 2019). Rasheed also founded Mapping the Spirit, a digital archive that documents Black spiritual life in the United States. She is on the faculty of the MFA program at the School of Visual Arts in New York City and also works full time as a social studies curriculum developer for New York's public schools.
Organized by Abigail Satinsky.